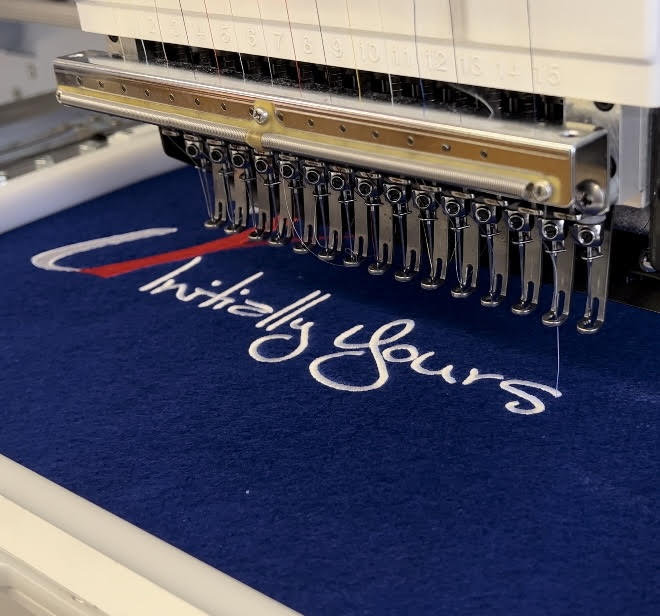 Initially Yours is a woman-owned family business located in Wilmington, DE providing embroidery, screen printing and promotional items since 1985.
Our Customers!
We service numerous clients with promotional needs, and here is what they are saying:
I have used Initially Yours three times now - all for large ordered & they are the ONLY place that I will go to for embroidery and screen printing. They are top notch with above and beyond customer service... from your initial phone call to your final product. It is so refreshing to find a business who has genuine people who work with you throughout the process and clearly want you to have a product that you love. I cannot say enough good things about them.
Molly H., Lane Swim Team
The team at Initially Yours have been amazing at helping me serve my clients apparel orders. They're fast, reliable, quality minded with great communication. They truly care about their customers so we can care for ours. I love the after hours, contactless pickup and drop off. IY really makes working with them easy. I can't imagine going anywhere else for apparel and promo needs.
Joe H., Phojegraphy
We have been using Initially Yours for our business' apparel. From hats, t shirts, and sweatshirts they have never let us down. The merchandise is always good quality, customer service is excellent, and contactless pick up is extremely convenient. The team at Initially Yours certainly deserves 5 stars and will continue to get our business.
Nick V., R. Short Roofing
Our company has ordered from Initially Yours for the past 6 years. Their staff is very knowledgeable, helpful with suggestions and the quality of the products is always 100%. We highly recommend Initially Yours! A+ Customer Service and quality.
Beth S., TPI
So grateful for Initially Yours!! Their service, pricing, and delivery times are incredible! I use them personally and professionally for everything from customized baby blankets to swag and branded merchandise. Love to support this local business!
Jamie K., Breakwater Accounting
So easy to work with, very patient with different requests, quick turnaround!! 10/10 would recommend!!
Lauri G., Colonial SD
Always a pleasure to work with! Quick turnaround and excellent customer service. Our nonprofit really values our partnership with them. High quality products.
Lauren C., DSA
Initially Yours takes customer service up a notch. We had polos, jackets, and sweaters embroidered by Therese and her team. The service and quality was through and through impeccable. I always recommend IY to any of my clients, friends, or family. Looking forward to using them for their other services in the very near future!
John M., Sprayless
You don't get any better customer service than this. They definitely have their act together! High quality and reasonable prices, very knowledgeable in their craft. Proud to support this local, very well family run business! Thank you Therese and Katlheen!!!
Trudy C., Independence Mall
Here at Aire Serv Heating and Air Conditioning we fully recommend Initially Yours for any embroidery and/ or personalization needs. We've received pieces of clothing along with pens, ect.. for the office. We are always pleased and will continue to do business with them!
Katelyn C., Aire Serv
"I needed my company name embroidered onto our work shirts and went to Initially Yours who helped me choose what I needed and liked. They then sent me a sample for my approval. I did not have what I thought was a large order but it did not matter. They treated me like a VP and in a short amount of time I received our company shirts with our embroidered name. I was very impressed as the shirts look fantastic with the embroidery and it helps my company appearance as well. Thank You Therese for your help."
Douglas R., Assurance Plumbing Company
"Initially Yours has come through for me on many occasions – t shirts, several embroidery gifts, and all of my business associates that I have referred to them have been EXTREMELY pleased with their embroidery! We've done several Herbalife 24 logo t shirts, bags, towels, apparel…. Ever piece is impeccable! Thank you, Therese and Mary! I will continue to refer everyone your way!"
Heather G., Nutrition Station, Inc.
"Our employees get recognized when wearing the apparel with our embroidered company logo. They look great. Thank you so much."
W.J.K., Krienen-Griffith Funeral Home
"I gave Initially Yours a concept and they came back with an embroidered logo on dress shirts which they supplied in less than a week at a cost cheaper than what I would have paid in the department store for an non-embroidered dress shirt. Best part it is my dress shirts are now tax deductible uniforms! Great service, great rates and a tax deduction – what more could a tax attorney ask for?"
Donald J., Prudent Capital Advisors, LLC.
"Therese and Mary are professional, knowledgeable, and prompt. They gave me advice on the best types of promotional products for a seminar. We settled on stress balls. They then walked me through the process, was clear about the amount of time needed, and had the finished product, which was high quality, very quickly. They are flexible and go out of their way to make sure that you are getting exactly what is needed. I highly recommend Initially Yours for promotional items."
Paul M., Precision Wealth Partners
"Thank you for the UPD sweatshirts, which I now have to remember a wonderful experience in my life."
M.A.O., Ulster Project Delaware
"We cannot thank you enough for what you have done for us."
L.D., ABM Janitorial Service
"All of the special embroidery Initially Yours did added such a personal touch to our wedding. Thank you. Thank you. Thank you."
Patti and Ted
"Awesome! Great people and great customer service! I have used them for thousands of pieces and will continue to work with them in years to come!"
Desiree F., Dogfish Head Brewery
"As an owner of a quality, concierge service level business, we look for quality partners and contractors that will enhance our image and can provide the best in service and products. Initially Yours is exactly that – a quality partner that provides excellent customer service and has a vast variety of the sort of custom products we were looking for. After searching around the area for some time and visiting other companies, I was getting disappointed in how similar companies operate and how little attention to detail and personalized service they provide. The folks at Initially Yours amazed me with not only their ability to do whatever we wanted, but with the time they took to ask me questions so they could be sure we got exactly what we wanted. The quality of their work was impressive and the time to complete our order was equally as surprising. If you want the highest quality and things 'done right' the first time, then look no further. We'll be using Initially Yours again as we expand our company branded offerings in the near future and look forward to working with Mary and Therese for many years to come."
Mark B., A2Z Property Management
"Thanks again for your patience and attention to detail. We look forward to doing business again next year."
J.C., Trellist
"The work is beautiful! Our family has had many items embroidered here – it is always flawless. I was really impressed when I brought a family heirloom baby blanket in to have an additional name embroidered. Mary matched the font and spacing exactly! You would never know that it was an addition 28 years later. Thank you!"
Nancy C., Stephen's Jewelers
"Initially Yours has high quality products and always goes above and beyond to give their clients the best customer service possible. My boss came to me with a last minute Christmas gift request for our whole company of 150+ people and Mary & Therese not only got us our order before Christmas, but had it ready a week early so we could give it out at the company Christmas party! No matter how many other jobs they have going on, they always make you feel like the only client! For any embroidery, silk-screening, or promotional needs, there's no place better than Initially Yours!"
Lauren R., Stream Companies
"I've been using "Initially yours" for my embroidery and screen printing for years. The staff is always very accommodating and the quality of their work is superb!"
Justin G., J's Barber Shop
"We love our branded hats, shirts, vests and jackets! We get nothing but compliments on the quality of the products. Initially Yours consistently delivers a product that makes everyone else look!"
Matthew L., Catalyst Visuals
"Great attention to detail.  For promotional items they really want to understand the intended use of the item so they can provide appropriate recommendations – love that!"
Lynn P., Oasis Senior Advisors Delaware
"Initially Yours has provided all of our embroidery needs for many years. This includes shirts, outerwear, hats, etc. The craftsmanship is simply the best! We have also used Initially Yours for event handouts with our company logo emblazoned. You have to try the Baby Blanket! It comes with the baby name and birthdate and has always been met with wonderful compliments!!!!!"
Gary H., Caliber Home Loans
"The advantage of using Initially Yours for our company Polo shirts was the help we received in getting the shirt colors to match our logo. In addition, Therese is a perfectionist at getting our logo just right. She has just the right touch to make our logo pop and get noticed. We received many compliments on our shirts. Initially Yours is very responsive, reasonably priced and a pleasure to work with. Thanks Therese!"
David F., Polonier Corporation
"I had a great experience with Initially Yours. Therese and her team were able to provide screen-printed shirts for my employees at a price that was right, AND with a really quick turn-around. I will be using them in the future!"
Kathleen S., Five Star Painting
"I use Initially Yours for all of my logo needs, both personally and professionally for my law offices. The team at Initially Yours is friendly, responsive, suggest great and unique ideas, and charge fair prices. I am always so happy with the products! Initially Yours also has wonderful ideas for unique gifts that everyone loves, and I never worry about someone else gifting the same item. Thanks IY!"
Melissa G., Linarducci Law
"Great team to work with! Excellent quality of work and lightening fast in completion. If you aren't using Initially Yours, Inc. you are using the WRONG vendor!"
Holly S., DEXSTA Federal Credit Union
"The team is amazing. They come through for me every time with quality products and fantastic service. I use them both for my business marketing needs and for individual gifts – I cannot even remember how many personally embroidered baby blankets they have delivered for me in record turnaround time! Can't say enough about how great they are!"
Elle V.D., Elle Van Dahlgren Law, LLC