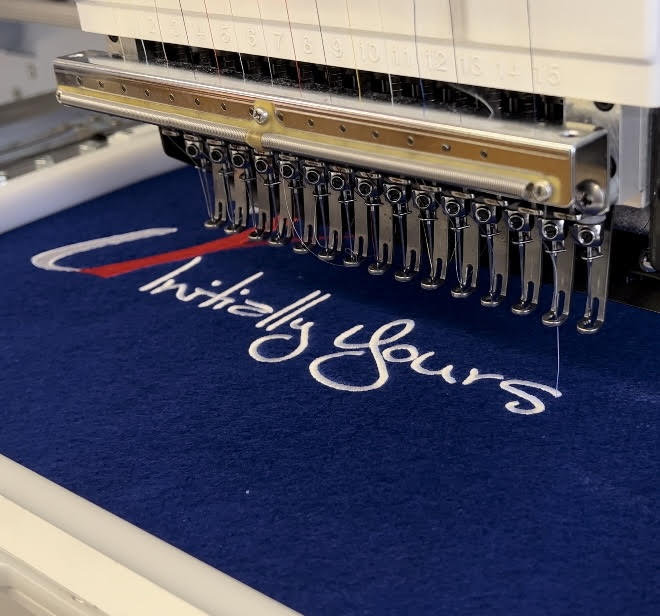 Embroidered Logo Apparel
What Can Be Embroidered?
If we can secure an item in our embroidery hoop, it can be embroidered. Embroidery items can include most articles of clothing, including:
Hats
Coats
Sports
Shirts
Dress Shirts
Tee Shirts
Sweat Shirts
Shorts
Sweat Pants
Warm-up Suits
Aprons and MORE!
Adding an embroidered logo will enhance any accessory, including bags, cinch packs, brief cases, back packs, coolers, messenger bags, laundry bags, duffle bags, garment bags, tote bags and the list goes on and on! Embroidery adds special personalization to every gift including bath towels, beach towels, golf towels, sheets, pillow cases, pillow shams, blankets, afghan's, throws, and many more.
Stand Out In A Crowded Room…
Embroidery is a great way to personalize corporate, team, and school apparel, as well as accessories and gifts. It is an inexpensive, effective, and lasting form of branding and advertising. It helps to get your business, team, school, nonprofit organization or group noticed and remembered. The most successful marketing strategies include embroidered apparel, accessories and gifts. Whether you are a start-up company with a few employees or an established corporation with hundreds of employees, we can find the perfect items to establish, enhance or change your company image. Bring in your own goods, or we can supply them for you from one of our many catalogs.
Who needs Embroidered Logo Apparel?
EVERYONE! Our most popular customers include:
Corporate Businesses
Trade Businesses: Landscapers, Electrician, Plumbers, HVAC, Contractors, Carpenters, Builders, Handyman, Auto Mechanics, Computer Repairmen, Painters
Schools: Pre-schools, Elementary Schools, Grade Schools, Middle Schools, High Schools, Private Schools, Charter Schools, Public Schools, Catholic Schools, Colleges and Universities
Sports Teams: Basketball, Football, Baseball, Soccer, Lacrosse, Field Hockey, Ice Hockey, Cross Country, Swimming, Softball, Boosters
Sports Leagues: Pop Warner, Cal Ripkin, CAL, Jr. Volleyball, Little League
Academic Teams: Math League , Science and Math Olympiad, Lego League, Robotics Teams, Model UN, Mock Trial Teams, Student Council
Special Events: Trade shows, 5K races, 5K walks, Golf Outings, Spirit Days, Fundraisers
Restaurants
Not-For-Profits