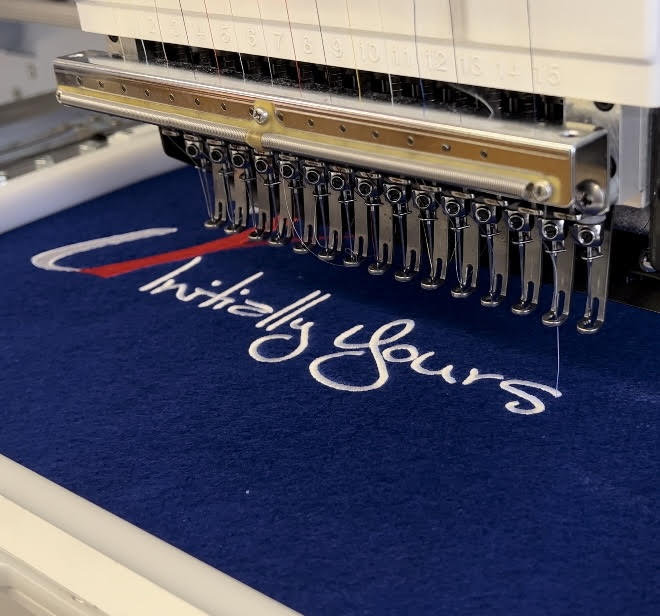 Frequently Asked Questions
Collapsible content
Do you have minimum quantities on Embroidery?

Yes, we have a minimum of 6 pieces for embroidery. You can combine any type of top (t-shirts, hoodies, jackets, etc.). Hats are accounted for separately.
Do you have minimum quantities on Screen Printing?

Yes, we have a minimum of 24 pieces for screen printing. (Restrictions apply. Call for details 302-999-0562).
Do you have minimum quantites on Promotional Products?

Yes, minimum quantities vary by item. Please call for details. 302-999-0562
What is your turn-around time?

We typically have a turnaround time of 5-10 business days from proof approval, but please give us a call to verify current turnaround time.
Do you offer free estimates?
What forms of payment do you accept?

We accept all major credit cards, checks, and cash.
What items can you embroider?

Anything we can secure in our embroidery hoops can be embroidered. Here are just a few of our most commonly embroidered items:

Towels, Blankets, Sheets, Pillow Cases, Pillow Shams, Shower Curtains, Baby Blankets, Lovie Blanket™, Personalizeable Pals™: Messenger Bags, Tote Bags, Back Packs, Brief Cases, Hats, Coats, Sport Shirts, Dress Shirts, Tee Shirts, Sweat Shirts, Shorts, Sweat Pants, Warm-Up Suits, Jackets, Coats, Christmas Stockings…..
Can I bring in my own goods for embroidery or screen printing?

Yes, IY will gladly embroider or screen print customer supplied goods. IY will not replace any customer supplied goods damaged in production. (Note: some restrictions apply. For details, call 302-999-0562 or email info@iyincde.com)
Can I buy goods from you?

Yes, IY has thousands of items available. Please visit our online catalogs or give us a call to schedule an appointment to visit our showroom to see some of our top sellers.
What design, logo, and art file formats do you accept?

For embroidery, we accept .jpeg and .pdf format designs. For screen printing and promotional products we require vector artwork (.eps). Please email your artwork to info@iyincde.com.
Can you create a design or logo for me?

Yes, we have thousands of stock designs available that can be customized for your needs. Please reach out to us for the design library catalog. (Note: Set-up / art charges will apply)
Do you provide shipping services?

Yes, IY can ship your order via UPS anywhere in the continental U.S. (Note: Shipping charges will apply)
Can I dropship my goods to your shop for decoration?

Yes, drop ship your order to:

Initially Yours, Inc.
1412 Kirkwood Highway
Wilmington DE 19805

Please note, processing charges may apply.
When are you open?

We are open by appointment only. Our appointment hours are Monday-Thursday from 9am-3pm.